Office of Research
Our Mission
The mission of the Office for Research is to facilitate significant and innovative research by creating a supportive environment for scholarly and creative activities for all faculty and students.
Providing continuing education opportunities for faculty regarding the preparation, submission, and post-award administration of grants.
Identification of grant funding sources for research, creative, and scholarly activities.
Support faculty in grant proposal development and submission.
Enhance teaching at the university by incorporating research into the educational experience.
Promote interdisciplinary research as a component of economic development in Clinton and Laurens County.
Our Vision
Promote a culture of excellence in research, education and scholarship in the sciences and humanities that will be used to address local and global challenges  in order to build a better world.
Specific Goals
Develop an effective mentoring plan for faculty.
Promote interdisciplinary research that is competitive nationally for extramural funding.
Identify niche opportunity areas for growth that can be developed using an interdisciplinary approach.
Promote faculty entrepreneurship by providing them support in securing seed funding.
Promote media relations and development activities to recognize and support faculty research.
Promote infrastructure development to provide growing faculty and research support needs.
Contact Us
Katherine Hanlon, Ph.D.
Associate Professor of Pharmaceutical Sciences
Director of Research
Email Dr. Hanlon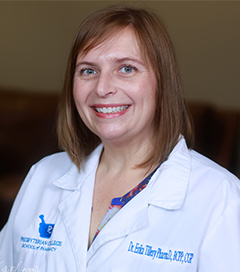 Erika Tillery, PharmD, BCPP, CGP
Chair, Pharmacy Practice
Associate Professor of Pharmacy Practice
Assistant Director of Research
Email Dr. Tillery