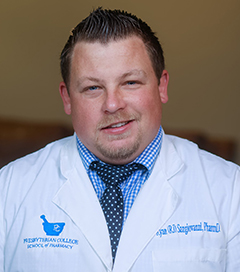 RJ Sangiovanni, PharmD
Assistant Professor of Pharmacy Practice
Department of Pharmacy Practice
Email Dr. Sangiovanni
864-938-3866
Office: 310
---
Background:
PharmD, Albany College of Pharmacy and Health Sciences, Albany, NY: 2016
PGY-1 Pharmacy Residency with a focus in Primary Care and Nephrology, Samuel S. Stratton Veterans Affairs Medical Center, Albany, NY: 2016-2017
PGY-2 Nephrology Pharmacy Residency with a focus in academia, Albany, NY: 2017-2018
Responsibilities:
Teaches in:
MTM Sequences
Drug Literature Evaluation/Evidence-Based Medicine
Research interests include:
Impact of antibiotics and antibiotic monitoring on kidney function
Acute and chronic disease state management for prevention and consequences of chronic kidney disease progression
Drug interaction impact on patient outcomes
Fun Fact:
I enjoy relaxing at the beach/pool, surfing/snowboarding, boating, and almost anything else outdoors. I enjoy traveling and time with family. I love spending time with my two golden retrievers (Jasper and Copper) and fiancé.